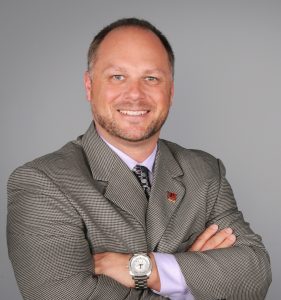 Coach. Home sales rep. Bison farmer. Ed Machart has worn many hats throughout his career, and his latest role brings him to Sarilia Country Estates. With 10 years as a Realtor under his belt, he brings his focused, former-farm-kid work ethic to his new role as Sarilia's sales agent. Together with his partner, Marty Edwards, this talented team from Century 21 E&M Real Estate are looking forward to meeting interested property buyers and sharing with them all the perks of river valley living.
By way of introduction to Ed, we're sharing this Q&A with him.
Where are you from?
I grew up on a farm just outside a town called Harris, 45 minutes outside Saskatoon (from kindergarten to grade 12). I was a farm boy. From there I went to Rosetown. Rosetown was my second hometown, so to speak. I had family and friends there so I went and worked there for about a year, and then I moved to Saskatoon.
Can you tell us about your family?
I have two sons—21 and 19. Both play football. Throughout everything I've coached ball, I've coached hockey. They both went on play junior football. My oldest played in Calgary for two years, with the Colts, and then my youngest is on the Hilltops, but also Team Canada. They just won the gold medal in Harbin, China at the under-19 world championships. (Ed and his wife travelled to China to attend the championships).
My wife and I love to go to Mexico—to Huatulco and Ixtapa on the west coast. We go a couple of times of year. It's beautiful. We love walking, we love swimming, but most of all, we just sort of hang out. It's more of a mental and physical resting time. We've rented scooters and gone on a few excursions. Most of all we love the beach.
What other jobs have you held?
I worked in sales for Yanke Transfer and as a home sales rep with Northridge Developments in Saskatoon. I also worked at Pepsi-Cola in Grande Prairie in sales and as head of new business development. My roles have always had a strong focus on sales and marketing.
I also had a bison ranch in Harris while I worked full-time for Northridge. I managed it with my little brother. We had 75 bison. We've since sold the business.
Why did you decide to get into real estate?
I wanted more for my family. I'm a hard worker and I wanted to work for myself. Growing up on a farm, I think there was always that, "go out and do it yourself" mentality.
I had tried different ventures, and real estate was something many people told me I'd be great at. And finally, it got to a point where I thought, "you know what, I'm going to do this." And it paid off, but that's my farm-kid work ethic—it really works well.
What are your hobbies?
Mostly driving around and looking at real estate. My wife and I go for drives in the country. We like driving the back roads and getting out of the city. We like driving by farms and acreages—that's how we first saw Sarilia many years ago. I had heard of it through real estate, and then we were out for a drive one day and I said, "Oh, here it is. Let's go take a look at this,"—and we loved it.
What was your first impression of Sarilia?
When I drove through it, I just loved it. I thought it was great because I'm not a golfer and it seems that everywhere you go they have these big, beautiful mansions and they're surrounded by golf courses and surrounded by people. That's not nature. Out at Sarilia, when you drive up, instantly you see the river and it's unspoiled. It's just more natural, quieter, and more peaceful and I think it's captivating.
What type of person is best suited for Sarilia's lifestyle?
I think it's the type of person who enjoys nature and enjoys the landscape somewhat undisturbed. It's out of the hustle and bustle. It's all about quiet. If you want to hear birds sing, you want to watch the sunset, and get out of the hustle and bustle of the city.
My wife and I are the type of people who, when we get busy, we say, "OK, let's go to the lake," or, "let's go for a drive" and the second you're out of the city limits, your energy just picks up. And that's how I feel every time I go to Sarilia. As soon as I pull in, it's like my energy just changes. It becomes more positive and lighter and life just…everything seems better. The grass is greener, birds are chirping, all of that, it's hard to articulate that, but that's the type of person who should live there. It's energizing.