Whether you're seeking panoramic river views, or the privacy of being nestled within a well-treed lot, Sarilia offers three categories of lots to choose from—each with their own unique characteristics and vantage points: River Front, River View, and River Ridge. There's also one remaining acreage property for sale at Sarilia, the details of which you'll find below.
Here's a breakdown of each category, along with corresponding testimonials from Sarilia residents.
River Front
Our river front lots offer spectacular, uninterrupted views of the North Saskatchewan River valley—perfect for enjoying sunsets with a glass of wine on your deck. The natural prairie landscape keeps yard maintenance to a minimum. Most river front lots have direct access to the river. There are two remaining riverfront lots for sale—502 and 512 Saskatchewan Road. 
"Our new house is surrounded by trees. Our deck is quite high and it's almost like being in a treehouse now because it's enveloped in trees—it's like a jungle in the spring and summer. There are so many birds—we've had robins nesting on the deck this summer and the bird feeders are always busy! We have chipmunks, squirrels and rabbits too as well as the occasional deer." — Patti, River Front property owner
River view
The name says it all—the higher elevation of our River View lots guarantees a panoramic view of the river valley. All of the River View properties back onto municipal green space. Small trees, native shrubs and wildflowers create a beautiful backdrop to build your new home. These gently sloped lots are ideal for a walk-out basement design. 
"My friend came out here and said the view was just unreal, even from inside our house. Pretty much everybody says the view is just amazing from our house—from sitting in our living room, in our kitchen, or on our patio. We have a wraparound deck and everybody says the view is just spectacular." — Tessa, River View property owner
River Ridge
For those seeking privacy, our affordable River Ridge lots are well-treed, allowing you to build your new home nestled within the mature trees and native vegetation. All our River Ridge lots offer great potential for a rear walk-out design.
"Everyone says it's so beautiful out here—being in nature. They notice how quiet it is. If you are somebody like me, who still drive into Saskatoon every day for work, but you like to be in nature, it's just a good option. It has the convenience of being close to the city, but it's also a nice getaway from it." — Taylor, River Ridge property owner
Acreage Property
There is one remaining acreage property for sale at Sarilia—451 Saskatchewan Road. At 2.19 acres, it offers plenty of flexibility in your building site and architectural style. The lot backs onto a municipal park with easy access to the central trail system. The icing on the cake? This property has expansive, unparalleled river views. The perfect blank slate to build your dream home.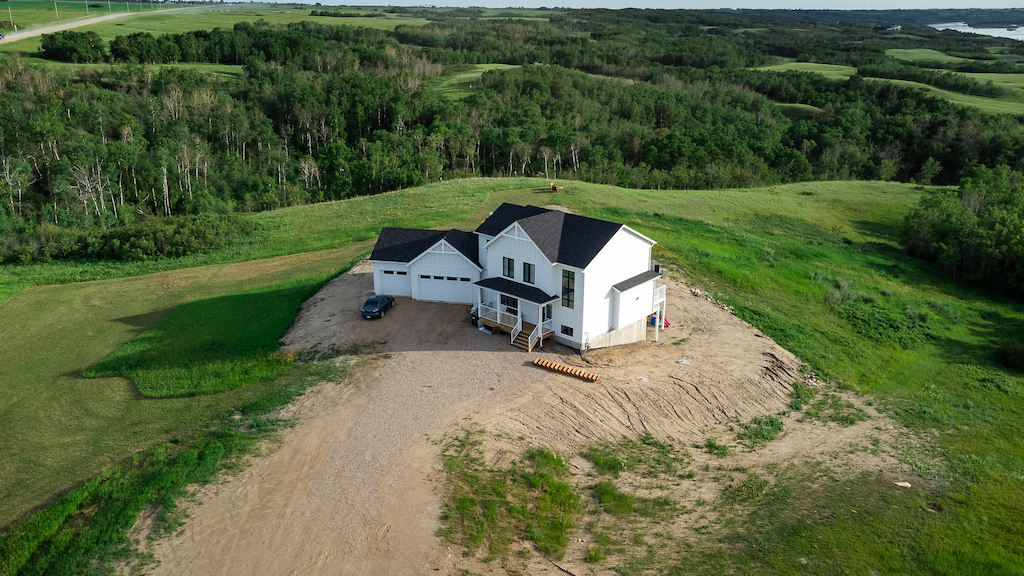 "The lot is fantastic. It's about 2 acres. We are at the top of the hill with panoramic views. I didn't want to be surrounded by trees—some people love that, and it feels like a cabin—but I wanted river views. We also back the nature preserve. The front yard is over an acre, where the kids can play. That was always the point—if we built, we needed room for the kids to run, but we still wanted to be in a community." —Kelsee, acreage property owner
To learn more about our remaining properties for sale, visit our property map, or contact Vaughn today for a tour.