Scott Enns has always felt drawn to the river valley and the serenity it offers. "I always liked the river life—the North Saskatchewan River and all the wildlife. It's always been in my heart to live on the river," he says.
Four years ago, Scott and his wife Pam made that dream a reality, when they moved to a riverfront lot at Sarilia. After discovering the lot for sale online, the couple drove to Sarilia, took one look, "and we called the Realtor and said, 'we'll take that lot,'" he says. "It was that quick."
Although he grew up in Martensville, Scott spent much of his childhood on his grandparents' farm 15 km north of Sarilia, so he was familiar with the area. Today, Scott is an avid outdoorsman and the owner of Hook in Mouth Outfitters & Tours.
We recently chatted with him to learn how he experiences and appreciates the great outdoors right here at home.
I've heard that you find getting out into nature to be therapeutic. Can you explain that?
It really has been. Every single day I am outside in the wilderness. I'm always down at the river and I try to get on the water or on the trails. I'll take my boat over to the island and go for a long walk. (The island is in the middle of the river).
I like that there's no light pollution here—there are no street lights. When Gwen and Ronn developed it out here they didn't want that. I was like, 'wow, that's brilliant.' They did an awesome job.
What's the island like?
There's a trail that goes from one side to the other and it's approximately 7-km long. There are all different species of trees—you'll walk to one spot and it will be a whole forest of a certain tree and then you get to the north side and there's all these really cool cottonwoods that are growing crooked.
Can you tell me about the famous cottonwood?
It's right across from Sarilia on the island. It's a black cottonwood. It's 100-feet tall and it's 20 feet in circumference at the base.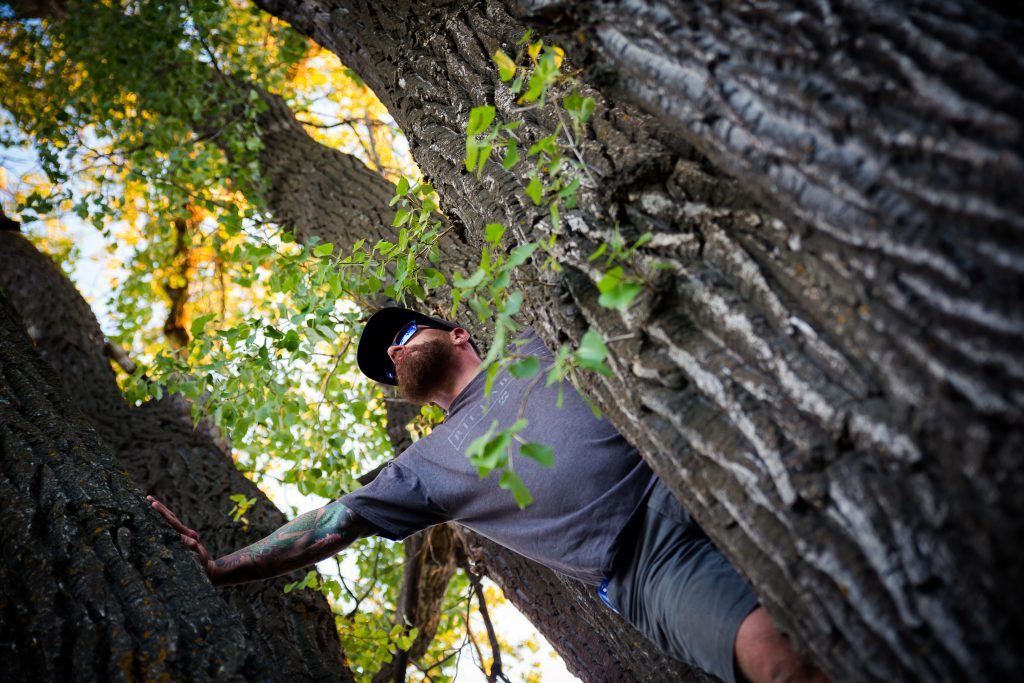 Is it one of the biggest trees in Saskatchewan?
It's one of the biggest urban trees. There are pine and spruce up north that are probably over 100-feet. But it's definitely one of the largest.
There is another tree on the island that is likely going to be called the most distinguished tree in Saskatchewan. It may have been struck by lightning and burnt out in the middle, so you can stand inside it. It's really cool.
Besides the island, are there other parts of Sarilia you find relaxing?
Yes—the river trails. They stretch from one end of Sarilia to the other and it's really nice down there. When it's windy, you can go down there and be sheltered from the wind. We've had a fire down there with the neighbours a couple of times this summer. It was really fun.
What kind of wildlife have you spotted at Sarilia?
This morning I saw a big moose on the island (from my house). There are probably 5-6 moose on that island. Last year we saw two bears. There's coyotes, elk, mink and red foxes. There are lots of different birds too—hawks, pheasants, owls, bald headed eagles, blue jays, woodpeckers and whiskey-jacks (AKA grey jay).
How would you describe your perfect day at Sarilia?
Just being outdoors, fishing, hiking and mountain biking. I try to get outside every day. I just love the peace and serenity of being in the quiet, hearing the coyotes and the birds.