It's cherry season in Saskatchewan and here at Sarilia we're fortunate to live right next door to a u-pick cherry orchard. Owners Ed Bueckert and Anna Rehan planted the first trees, a variety called Carmine Jewel, in 2000. A few years later they added new varieties, including Cupids and Juliettes. "It took about six years before they started producing to a point where it was a commercial operation," says Ed. In addition to the u-pick, Ed sells their cherries to local wineries, restaurants and to food services at the University of Saskatchewan.
We chatted with him to glean a little more insight into the delicious cherries he grows right here in the prairies.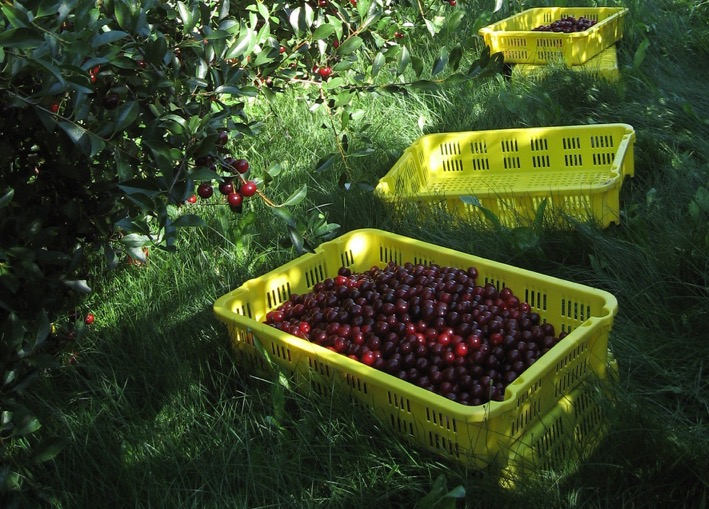 What time of year are the cherries ready to pick?
Usually the beginning of August.
What are some of the beneficial properties of sour cherries?
You hear about antioxidants and their benefits, and cherries are really high in antioxidants. They're also rich in melatonin, which helps you sleep. And there's research being done about athletes using cherry juice and to speed up muscle generation, but that's in a research stage.
What kind of volumes do you grow each year?
It varies quite a bit. Right now, I'm in the process of rejuvenating my orchard. Some of these trees are 18 years old and they're getting too tall and the stems are getting too big. So, what I'll be doing every year, is cutting down a row of cherries, and they come back really quickly—they regrow from the roots and so, my production right now isn't as big as it was at one time, but I've produced as much as 6,000 lbs. a year. It's less than that now because not all of my rows are in production. It takes about three years for them to come back into producing after I've cut them down.
What other varieties perform well in our climate?
The University of Saskatchewan initially came out with Carmine Jewel. And then some years later, they came out with five varieties they call the Romance Series of cherries. In that series, there's the Cupid and Juliettes. But there's also Romeo, Valentine and Crimson Passion.
Do you grow anything else?
We grow apples, raspberries, strawberries, haskaps, but not commercially, that's for our own benefit. I have 30 bushes of haskap, but the cedar waxwings are just tenacious. If you don't net them, and net them really carefully, if there's any little hole, they're in there. They will clean them off—they'll eat them till they're all gone.
Do you have a favourite recipe for your cherries?
We make a sort of pie filling, but we use it for a variety of things. Like as a dessert topping, an ice cream topping or on cheesecake and that sort of thing. It can also be used in pies. You just add a little bit of thickener to it, like modified corn starch and a little bit of sugar and that's it. It's a pretty simple recipe and then it can be used for a variety of things. And we can some of that so we have it around for serving dessert.
We also dry a lot of cherries. They're really good in salads and I use them every morning in my cereal.
How long is the cherry season on your orchard?
We probably have cherries all of August. The Carmine Jewel are the first ones that come, so we pick those first, and then the Juliettes. The Cupids probably aren't ready to be picked until the middle of August. They will last just about to the end of August.
The Cupids are more for fresh eating, they're the biggest cherry that we have, and probably the sweetest. They don't pit very well because their pit is shaped differently. So, we use those more as a fresh eating cherry, and they taste pretty good. They're sweeter and they look nicer. But for processing I still think the Carmine Jewel are probably the best. Their flavor is really intense, although they're quite sour—but for processing, that works in their favour.
*Unfortunately many cherry growers in Saskatchewan, including Ed and Anna, have had problems producing cherries this year, likely due to winter conditions. Their u-pick is not open this season, but they are still selling pitted and frozen cherries.